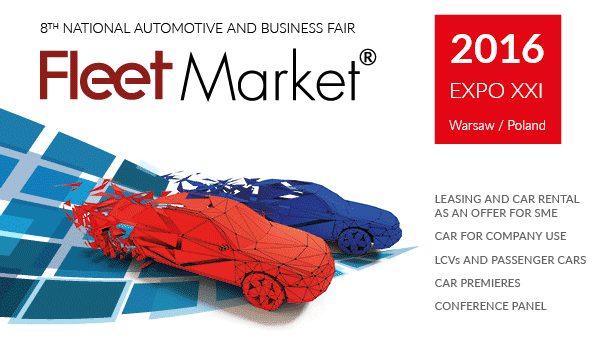 Fleet Market Fairs 2016 – the biggest fleet event in Europe
Eighteen exclusive premiers, more than a hundred new models of cars, various exhibitors, distinguished guests and great business atmosphere – this event took place on 22nd of November in EXPO XXI Centre, in Warsaw/Poland.
The eighth edition of Fleet Market fairs gathered almost 7 400 guests and was an exhibition of 112 new cars and LCVs. During the fairs more than 60 fleet suppliers showed their newest products and services.
Participants of this unique event, could also take part in a conference panel which has given an insight into new trends impacting Polish fleet management industry. This year main theme was : "Cars and LCVs for the SME sector".
Fleet Market is the only occasion in year to see an impressive number of new cars and LCVs, to meet with the experts in the field of fleet management , finance, long term rental , taxes or insurance.
Each year Fleet Market Fairs are visited by fleet managers, business owners, financial and administrative directors and all the people responsible for car policy in Polish companies. Furthermore the fairs are not only an exceptional exhibition event for the automotive and fleet industry but also an impressive auto show. During the Fleet Market fairs almost all car importers present their latest models of cars and LCVs dedicated for business. The exhibitors at the Fleet Market Fairs include among others: finance and leasing companies , service, IT or rent a car companies.
For more information, please visit: www.fleetmarket.pl.
EXHIBITORS:
ORGANIZER:
CONTACT:
Chief Editor of "Fleet Magazine"
Tomasz Siwiński
tomasz.siwinski@fleet.com.pl
kom.: +48 668 353 040
tel. +48 (71) 339 79 03
Marketing & PR Manager
Dominika Wejksznia
dominika.wejksznia@fleet.com.pl
kom. +48 668 400 633
tel. 48 (71) 339 79 03